CAOHC CERTIFICATION
Occupational Hearing Conservationist Courses
---
A Certified Occupational Hearing Conservationist plays a key role in any hearing conservation team. By attending our Occupational Hearing Conservation course you can become a certified Occupational Hearing Conservationist (OHC). The course consists of lectures, practical and written examinations, and "hands-on" practical workshop sessions including hearing testing, equipment calibration checks, otoscopic screenings, and hearing protection fitting. This training complies with OSHA, MSHA and FRA requirements for personnel conducting audiometric testing for Hearing Conservation Programs in industry, mining and railroad. We cover all relevant "current best practices" for managing hearing conservation programs.

Robert's Certification Number:  506184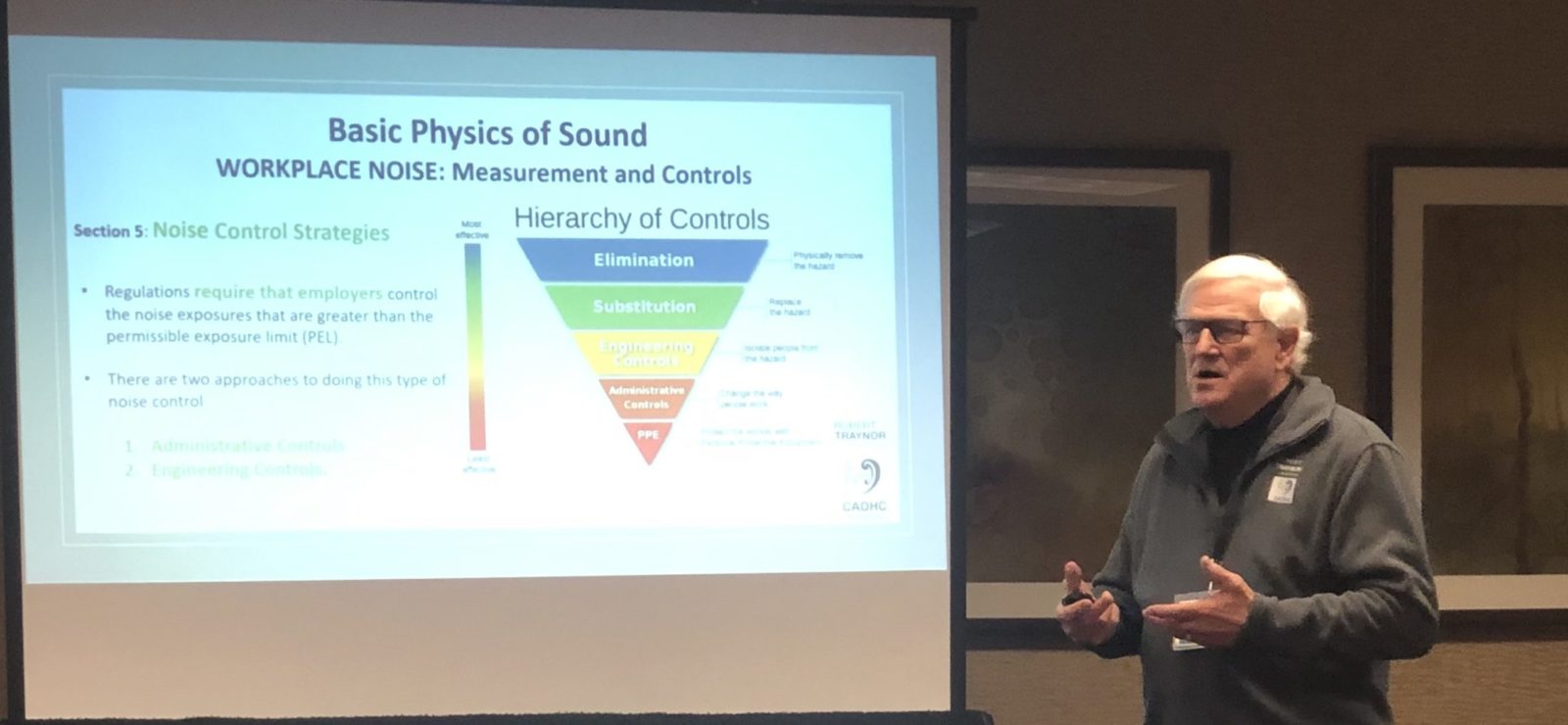 CAOHC CERTIFICATION
Our course is approved by the Council for Accreditation in Occupational Hearing Conservation (CAOHC) for certification as an Occupational Hearing Conservationist. Participants who complete the 20 hour three (3) day program and pass the examinations (both practical and written) are eligible for CAOHC certification. Those seeking CAOHC re-certification must be current with certification and complete the one (1) day refresher class and pass the examinations (both practical and written) to be eligible. These certifications are for a 5 year period.
NOTE: If your certification expires any day prior to the course date, you must request an extension from CAOHC here.
Occupational health nurses, PA's, physicians, audiometric technicians, industrial hygienists, audiologists involved in hearing conservation programs, managers & other health and safety personnel. There are no prerequisites or prior knowledge required.
Practical "Hands-On" Sessions and Examination
The practical components of the course include Otoscopic Examination, Audiometric Testing and Hearing Protection Fitting. Sessions are conducted in accordance with CAOHC requirements with a ratio of one audiometer for every two participants and one instructor per eight participants. The equipment and material for these sessions is provided at the course facility.​
Written Examination
An online written test will be conducted at the end of the course and will be graded by CAOHC. Results and certificates will be available from CAOHC within 10 days. Attention and participation during the course will prepare you for the examinations.
After successfully completing this course, the participant is eligible to become a Certified Occupational Hearing Conservationist (OHC) with the following skills:
Conduct valid hearing tests
Check performance & maintain hearing test equipment
Provide employee training & education
Implement an employee referral system
Properly fit & troubleshoot hearing protection
Comprehend basic principles of noise measurement & control
Develop accurate record-keeping for a compliant hearing conservation program
Understand State & Federal regulations
Participate on a hearing conservation team
Check back for updated course schedules.
Dr. Robert Traynor, Certified Professional Supervisor, CAOHC Certified Course Director.
Dr. Traynor brings a wealth of audiological experience as a clinician, researcher, consultant, educator and author.